As part of its commitment to decreasing neurodegenerative diseases of aging and improving the well-being of Canadians, the Weston Family Foundation is pleased to announce nearly $8 million in funding for brain-health research.
In November 2020, the Foundation launched Brain Health: 2021 – Lifestyle Approaches and Microbiome Contributions. The program, jointly run by the Weston Brain Institute and the Weston Family Microbiome Initiative, was designed to support projects examining the impact of lifestyle and the microbiome on the maintenance of optimal brain health, and specifically the prevention or delay of neurodegenerative diseases of aging, such as Alzheimer's and Parkinson's diseases. Applications for the program were reviewed by a panel of international experts and four projects were selected to receive funding: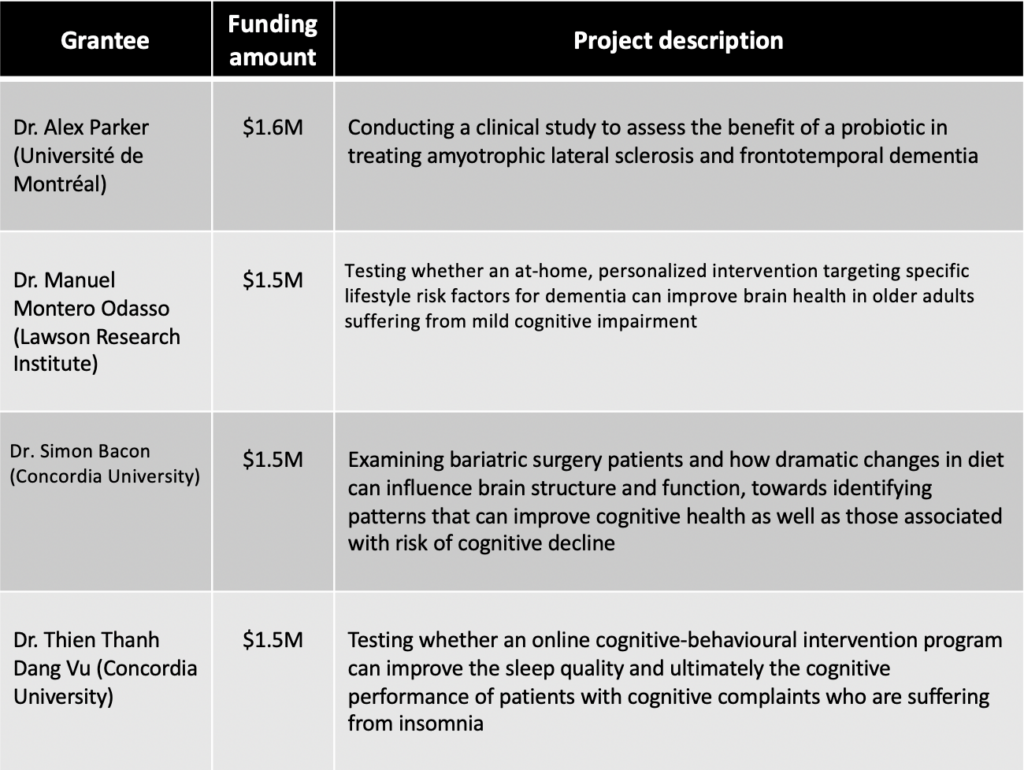 In addition to the above grants, an additional $1.8 million was awarded to six grantees through the Weston Family Microbiome Initiative Proof-of-Principle program. The awarded projects seek to leverage the microbiome to improve diverse aspects of brain health, including combatting Alzheimer's, Parkinson's and Multiple Sclerosis, improving mental health, and supporting cognitive development in early-life.
These grants follow on the footsteps of $12 million in Foundation funding to the Canadian Longitudinal Study on Aging (CLSA) for a new brain-health initiative announced in November 2021.
The Healthy Brains, Healthy Aging Initiative will augment the CLSA platform, and marks the first time a national study of aging in Canada has introduced both brain imaging and microbiome analyses to investigate cognitive aging in the population over time. Read more about the Healthy Brains, Healthy Aging Initiative here.